How to increase heat pump adoption to hit energy conservation targets
As part of the UK's journey to Net Zero there is a serious need for the decarbonization of residential homes. Household emissions from heating and hot water will need to reduce by a whopping 95% if we are to reach the government's 2050 carbon emissions targets!
The majority of household CO2 emissions come from heating (including generating hot water), which is why heat pump adoption is going to be so important going forward. We take a look at how heat pumps will help the UK reach our Net Zero and energy conservation targets; the barriers to consumers adopting them; the drivers to encourage uptake – and how Advizzo's SaaS platform for energy providers can help.
Energy conservation targets
Energy Catapult Analysis1 reveals that in 2017, the average household generated 2,745 kg of CO2 emissions from heating, which is around 31% of the total. By July 2019 the UK was aiming to cut carbon emissions by 80% by 2050. That meant reducing the carbon generated from heating to 692 kg CO2 annually. To reach the Net Zero 2050 target we need to go even further and reduce heating emissions to 138 kg CO2 per household – a reduction of 95%.
We cannot reduce carbon emissions from heating sufficiently if we continue to use natural gas or oil to heat our homes. The level of decarbonization required demands a substantial shift in heating technologies from high carbon fossil fuels to low carbon fuels and technologies. This will require a significant change to the current UK heating market – a change which The Energy Savings Trust admits "the majority of the population are largely unaware and unprepared1."
Introducing energy efficient products
As part of wider initiatives to make the UK carbon neutral by 2050, new gas or oil boiler installations will be phased out. Set out in the government's December 2020 energy white paper, 'Powering our Net Zero Future'2, new measures will be introduced to start switching home heating, at scale, to low-carbon alternatives or an appliance that can be converted to use a clean fuel, such as a heat pump.
One initiative set out in the white paper is to increase voluntary installation of heat pumps from 30,000 a year to 600,000 a year by 2028.
Other initiatives include:
Phase out installations of gas boilers by mid-2030s – with all newly installed heating systems from this date being low-carbon or able to be converted to use clean fuel.
Ensure new homes built from 2025 onwards are zero-carbon ready – including consulting on whether it's feasible and appropriate to end the connection of new-build homes to the gas grid.
Consult on the role hydrogen-ready appliances will play in the future – with large-scale trails of hydrogen-fueled towns by 2023 and 2025.
Changes to EPC requirements for landlords
Rental properties and landlords will be affected by the changes. Currently, landlords need to get a new Energy Performance Certificate (EPC) certificate every ten years. Each certificate has a grade from A to G that rates the building's energy efficiency. The minimum efficiency standard is set at an E rating for all types of domestic and non-domestic property.
The government has recently proposed new EPC regulations that will change the Minimum Energy Efficiency Standards. This is planned to take effect in 2025 and these changes will impact the domestic rental property in England and Wales.
The new EPC regulations would mean that from 2025 rented properties will need to have a certification rating of C or above.
The changes are to ensure that homes are more energy-efficient and to reduce carbon waste, progressing towards the government's net-zero targets. If landlords do not comply, they could face penalties of up to £30,000.
Replacing old gas boilers with heat pumps would be one way to get a home's energy rating down.
Barriers to heat pump adoption
According to research conducted the Sustainable Energy Authority of Ireland3 (SEAI), the barriers to heat pump uptake include:
Low awareness and understanding of heat pumps; the tendency to stick with traditional approaches; a focus on up-front costs rather than long term financial gains
Avoidance of making uncertain choices that we might regret later (regret and risk aversion); the hassle of organizing assessments and home visits and lack of finance
Low understanding of heat pumps; complicated heating control design; negative installation experiences
"People's tendency to continue with the status quo is extremely strong – it will take significant investment in demand generation and other policies, to encourage people to adopt heat pumps." Encouraging Heat Pump Installation in Ireland – behavioral insights paper3.
How Advizzo can help increase adoption of heat pumps
Advizzo can help provide assistance and encouragement at every step of an energy company customer's heat pump 'adoption journey'.
Help identify target consumer groups
The SEAI's research identified a number of consumer groups that are more likely to install a heat pump. They include:
Movers
Owners of larger homes
Oil users
Tech enthusiasts
Those with a higher education
Those with high SES £
Those with a lower/higher BER (rating)
Advizzo can combine open source data such as data related to a homeowner's income, demographic, EPC rating, education etc., and run diagnostics to identify the target groups identified above (i.e. those more likely to adopt a heat pump).
Help educate
We can leverage all communication channels to provide targeted groups with information about gas boiler replacement requirements and the options available to them. The Advizzo platform can help surface the right information and offer it to the right customer at the optimum time.
Help visualize cost savings
We can help customers to visualize cost savings on overall home consumption with personalized graphics sent to individual homeowners, based on their current energy consumption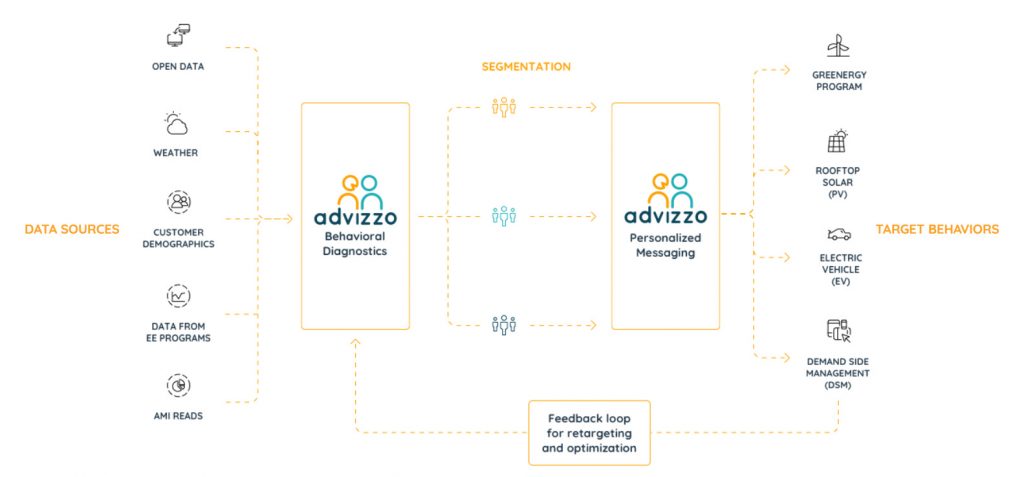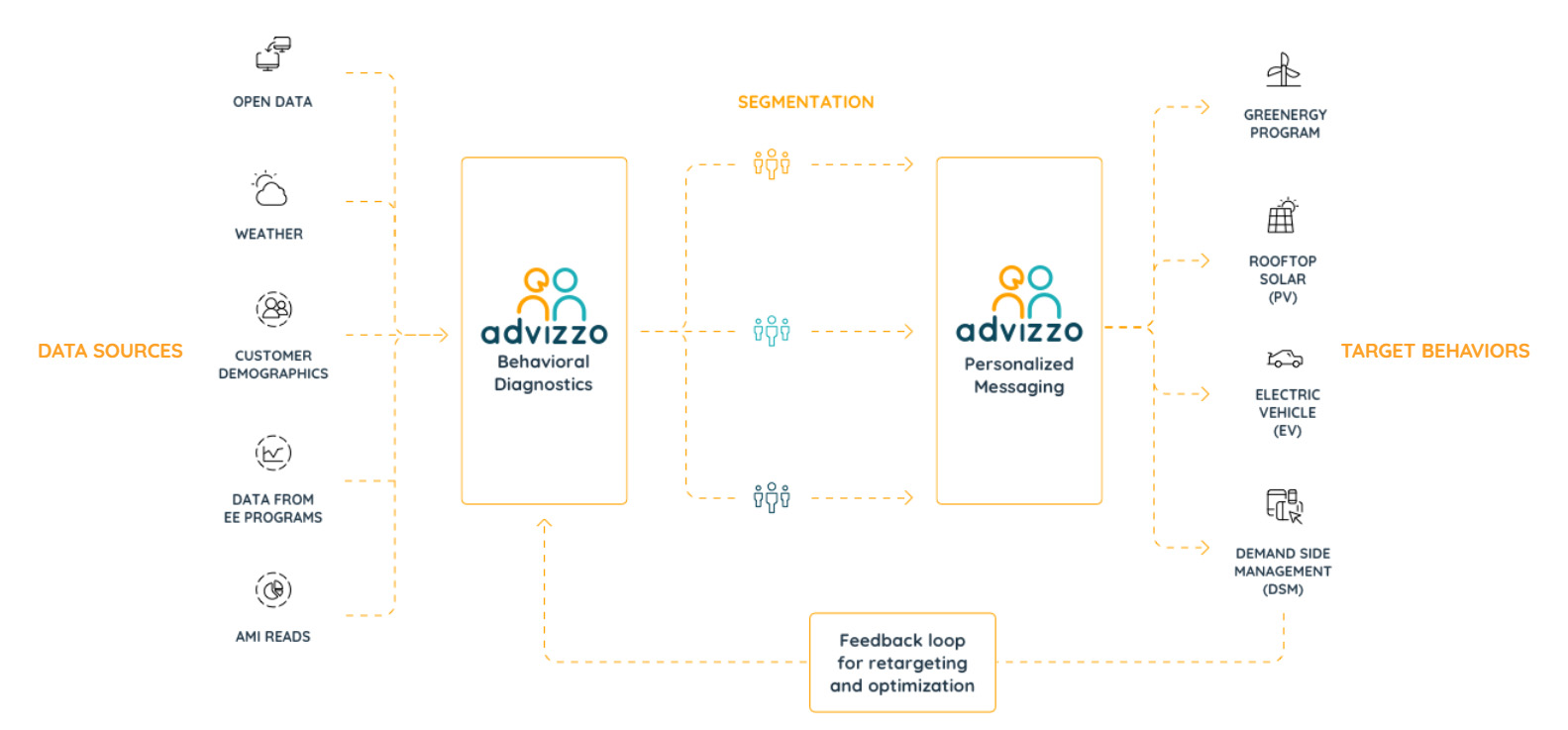 Deliver tailored tips
According to trials conducted by the Energy Savings Trust, many heat-pump owners felt that the instructions for using their heat pump were complicated, and this had a knock-on impact on the performance of their pump. We can deliver tailored tips to help heat pump owners to optimise their heat pump use and to reduce their energy consumption and bills.
Are you ready to increase the uptake of heat pumps? If you'd like more information about Advizzo's services and solutions, or to discuss how we can help you reach out to your customers and encourage uptake of heat pumps, then why not book a demo?
Source ref
1https://energysavingtrust.org.uk/significant-changes-are-coming-uk-heating-market/
2https://www.gov.uk/government/publications/energy-white-paper-powering-our-net-zero-future
3https://www.seai.ie/publications/Heat-Pump-Adoption.-Maximising-Savings.pdf